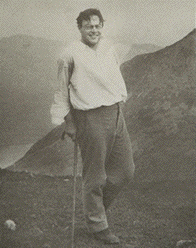 Frank Plumpton Ramsey.
Banach spaces and Ramsey theory, Spring 2007

---
Instructor: Christian Rosendal, room 304 Altgeld Hall

Course hours: Tuesday and Thursday 9:00 - 10:20 AM in Altgeld Hall 141.

Classes begin 12-Mar-07 and end 02-May-07.

This is a half semester course on the geometry of Banach spaces with a heavy emphasis on the applications of combinatorial, model-theoretical, and descriptive set theoretical methods. The goal is to introduce the fundamental notions about Schauder bases, which are the natural generalisation of vector-space bases to the infinite dimension, and then rapidly go on to prove some of the deep results of the subject.

An overview:

Fundamentals about bases.
Theorems of James.
Nash-Williams, Galvin - Prikry, and Rosenthal's $l_1$ theorem.
Spreading models and Krivine's theorem.
Gowers' dichotomy theorem.
Gowers' $c_0$ theorem.
Dvoretzky's theorem.


Notes:


There is no required reading, but several excellent textbooks are available.
F. Albiac and N. Kalton, Topics in Banach space theory.
Graduate Texts in Mathematics, 233. Springer, New York, 2006. xii+373 pp.
M. Fabian, P. Habala, P. Hajek, V. Montesinos Santalucia, J. Pelant, V. Zizler, Functional analysis and infinite-dimensional geometry.
CMS Books in Mathematics/Ouvrages de Mathematiques de la SMC, 8. Springer-Verlag, New York, 2001. x+451 pp.
J. Diestel, Sequences and series in Banach spaces.
Graduate Texts in Mathematics, 92. Springer-Verlag, New York, 1984. xii+261 pp.
S. Argyros and S. Todorcevic, Ramsey methods in analysis.
Advanced Courses in Mathematics. CRM Barcelona. Birkhäuser Verlag, Basel, 2005. viii+257 pp.
D. Li and H. Queffelec, Introduction à l'etude des espaces de Banach. Analyse et probabilites.
Cours Specialises, 12. Societe Mathematique de France, Paris, 2004. xxiv+627 pp.
---
Back to Christian Rosendal's homepage.