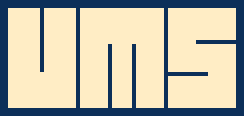 Undergraduate Mathematics Symposium
Saturday, October 5, 2013
University of Illinois at Chicago
Organized by Alex Austin, David Dumas, and Steven Hurder
This page is about the
2013
symposium.
For the latest symposium information see the UMS home page.
About the symposium
The Undergraduate Mathematics Symposium at UIC is an annual one-day meeting focusing on undergraduate mathematical research and education. The meeting features invited lectures by mathematical researchers and contributed lectures by undergraduates on their own research projects.
The next UMS will be held at UIC on Saturday, October 5, 2013.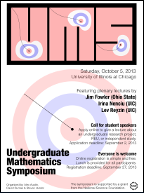 Download the symposium poster — then email us when you identify its mathematical theme!
Plenary lectures
Jim Fowler (Ohio State)


Projective Planes

Abstract:

Given a field (a number system), we can build a "geometry" --- something with points and lines. For instance, starting with the field of real numbers, we consider ordered pairs of reals, and we get the Cartesian plane.

What if we instead started with the geometry? Could we, from the points and lines, recover a field? Sometimes, yes! The geometries we start with will be "projective geometries" where any two lines meet, maybe "at infinity". How do we then get a field? Commutativity of multiplication --- among the other axioms for a field --- are encoded as gloriously complicated diagrams of points and lines. Desargues' theorem and Pappus' theorem show up to save the day.

A reference is Hilbert's Grundlagen der Geometrie.

Irina Nenciu (UIC)


Modeling with Randomness

Abstract: I will describe several surprising real-life and mathematical instances in which models involving randomness provide excellent descriptions for deterministic situations. The main mathematical tool are random matrices, which live at the intersection of linear algebra and probability theory. I will describe these objects, and some of the expected, and the utterly unexpected, instances in which they are used.

Lev Reyzin (UIC)


Three Great Ideas in Computing

Abstract: I will talk about three surprising mathematical ideas that have revolutionized computer science and had enormous impact on our society. To give a broad perspective, I will jump from computability theory to cryptography and then to machine learning. I will also describe some current research directions and open problems in these areas.
Location
All symposium events will take place in the Science and Engineering Offices building (SEO) on UIC's East Campus. Registration, lunch and coffee will be provided in room 300, while the lectures will take place in room 636.
Schedule of events
Plenary lectures are 50 minutes and student lectures 20 minutes; breaks of 10 minutes between talks allow for questions and discussion. A catered lunch of sandwiches and salads is provided for all symposium participants.
8:15 - 8:50am
Sign-in and coffee in SEO 300
Morning session — Plenary Lectures — SEO 636
8:55am
Opening remarks
9:00am
Lev Reyzin (UIC) — Three Great Ideas in Computing
10:00am
Jim Fowler (Ohio State) — Projective Planes
11:00am
Irina Nenciu (UIC) — Modeling with Randomness
12:00pm
Lunch in SEO 300
Afternoon Session 1 — Student lectures — SEO 636
1:00pm
Ayah Almousa (Wisconsin-Madison) — Counting Polynomials with Given Root Multiplicities
1:30pm
Derek Francour (Wisconsin-Madison) — Computing the Shape of Configuration Spaces
2:00pm
Weston Ungemach (Chicago) — A Better Bound on the Size of Isospectral Families
2:30pm
Kelsey DiPietro (UIC) — Negative Snell's Law
3:00pm
Coffee break in SEO 300
Afternoon session 2 — Student lectures — SEO 636
3:30pm
Lisa Gullo (Dominican) — Optimal Paths in Graphs with Variable Weights
4:00pm
Bradley Lewis Burdick (Ohio State) — A Simplicial Tutte Flows Conjecture
4:30pm
Rachel Katz (Chicago) — The Colored Cubes Problem