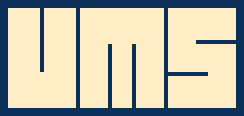 Undergraduate Mathematics Symposium
Saturday, October 13, 2012
University of Illinois at Chicago
Organized by
David Dumas
and
Steven Hurder
This page is about the
2012
symposium.
For the latest symposium information see the UMS home page.
Symposium poster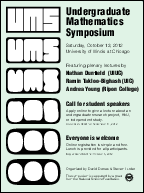 Plenary lectures
Nathan Dunfield (UIUC)


Mathematical truths: experiment, proof, and understanding

Abstract: Experimentation has played an important role in mathematical discovery for centuries. With the rise of powerful computers, more complex mathematical objects can be studied in this way. After explaining why "a topologist is someone who can't tell a coffee cup from a doughnut", I will give a concrete example of how experimentation lead (eventually!) to a new result in the mathematical area of topology. Along the way I will discus different forms of mathematical knowledge, contrasting the results from experiment with logical proofs on the one hand and intuitive understanding on the other.

Ramin Takloo-Bighash (UIC)


Distribution of orders in number fields

Abstract: An order, or a number ring, is a subring with identity of the ring of integers of a number field which is a module of maximal rank over the ordinary ring of ingeres. In this talk I will discuss some old problems and recent theorems on how orders are distributed.

Andrea Young (Ripon College)


Discrete Differential Geometry

Abstract: Discrete differential geometry is a growing field of mathematics that has a wide variety of applications including computer graphics, medical imaging, geometric modeling, and discrete exterior calculus. In this talk, I will discuss discrete approximations of smooth 2- and 3-dimensional manifolds and describe how one can interpret the curvature of such objects. I will also discuss some problems that can (and have!) been studied and solved by undergraduates.
Schedule of events
8:15 - 8:50am
Sign-in and coffee in SEO 300
Morning session — Plenary Lectures — Lecture Center F1
8:55am
Opening remarks
9:00am
Andrea Young (Ripon) — Discrete Differential Geometry
10:00am
Ramin Takloo-Bighash (UIC) — Distribution of orders in number fields
11:00am
Nathan Dunfield (UIUC) — Mathematical truths: experiment, proof, and understanding
12:00pm
Lunch in SEO 300
Afternoon Session 1 — Student lectures — Lecture Center F1
1:00pm
Charles Alley (UIC) — Continued Fractions as Linear Fractional Transformations and Related Results
1:30pm
Jake Marcinek (Caltech) — Subrings of Z6
2:00pm
Nathaniel Bude (Ripon) — Hill-Climbing Search for Metrics on Triangulations of S3
2:30pm
Fiacha Heneghan and Ashley Sliva (DePaul) — Min-max Up-down Permutations
3:00pm
Coffee break in SEO 300
Afternoon session 2 — Student lectures — Lecture Center F1
3:30pm
Sangwon Hyun (Michigan) — Examining the Sample Complexity of the Maximum Likelihood Estimator in Phylogenetic Tree Reconstruction
4:00pm
Brian Freidan and Robert Halliday (UIUC) — The Sphere in Spacetime
4:30pm
Milica Vesovic (UIC) — Mathematical Modeling of Biological Systems