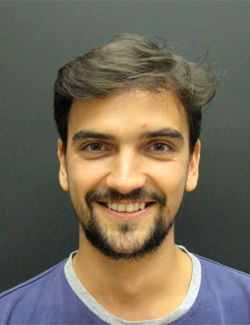 Mihail Hurmuzov
Professional:
Personal:


CV
Office Hours: Tuesday 2-3, Thursday 2-3, Mathematical Sciences Learning Center.

---



I have moved to the University of York in the UK.
My current academic email address is .



I was a PhD student at the Department of Mathematics, Statistics, and Computer Science, UIC from 2015 to 2018. I received my Master's (MMathPhil) from the University of Oxford, where I read Mathematics and Philosophy at St. Hilda's College. I am currently interested in knot theory, nonstandard analysis, and topology. Other interests include Philosophy of Mathematics, Logic, and Set Theory.


Projects.
"Nonstandard Analysis and the Local Hilbert's Fifth Problem". Advisor: Sylvy Anscombe, University of Oxford '13. pdf.
"Nonstandard Analysis and Topology". Advisor: Laura Schaposnik. UIC '16.pdf
"Hyperbolic Structure of Knot Complements". Advisor: Laura Schaposnik. UIC '17.pdf


Teaching.
I am currently a teaching assistant for MATH 210 (Multivariable Calculus) at UIC. Schedule:

T noon-1:00PM 185 BSB
T 1:00PM-1:50PM 215 SH
T 3:00PM-3:50PM 201 LH
R noon-1:00PM 320 TH
R 1:00PM-1:50PM 308 SH
R 2:00PM-2:50PM 315 SH

I have been involved with Maths teaching at the Sofia High School of Mathematics, Sofia, Bulgaria, including a lecture series on Philosophy and Logic, preparing the international competitions team, and leading a school on puzzles.
---

I have been interested in photography and graphical design for the last 10 years or so. Some of my work can be seen on my G+ page.